Learn more about Yakiniku Plaza and Wagyu Master!
In this video, know how we started bringing authentic Japanese Wagyu in Singapore and providing you the best dining experience even at home. Your most asked questions are answered by none other than Wagyu Master Yoshida-san!
00:41 – How did you come up with Yakiniku Plaza?
03:04 – What do you mean with Farm to Table?
03:54 – How did you become Wagyu Master?
04:41 – Best tip you can give for optimizing our Wagyu Experience?
05:42 – Why is Wagyu so tender?
05:57 – Why does Wagyu melt in your mouth?
06:25 – Why does Wagyu have marbling?
06:40 – Why is Wagyu so expensive?
07:25 – Is Wagyu Fat healthy?
焼肉プラザ
YAKINIKU PLAZA
私達はシンガポールで輸入販売実績No.1の和牛カンパニーです。日本の本社からシンガポールへ高品質な和牛を直輸入しています。当社の和牛は霜降りが特に美しい黒毛和種を採用しています。
We are the No. 1 Wagyu Supplier in Singapore that sells 100% authentic Japanese Wagyu Beef. Our high-quality meat is directly imported from our farms in Japan to Singapore. Wagyu is defined by its beautiful marbling which is created by their unique DNA makeup of Japanese Black Cattle.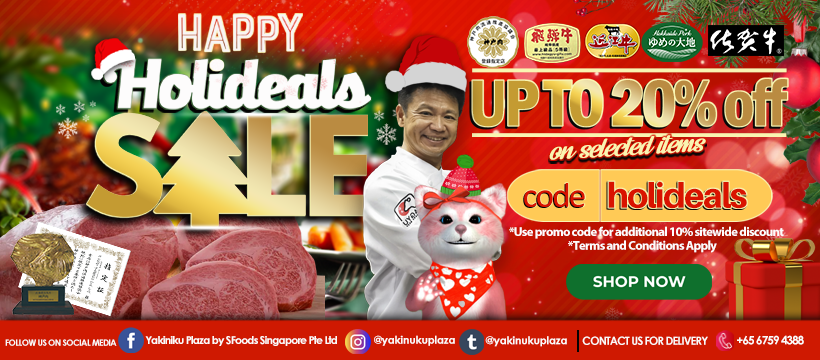 しゃぶしゃぶ / すき焼き
Shabu Shabu / Sukiyaki
THE INNER & OUTER BEAUTY OF WAGYU
APPEARANCE 美
Intricate patterns of intramuscular fat layered between red meat of Japanese Wagyu are referred to as "marbling".
FLAVOR 味
Oleic acid, which is found in high concentration in Wagyu, has a very low melting point (20°C, or 68° F) – it gives a very tender texture that feels like each bite is melting in your mouth! The red meat includes intrinsically sweet amino acids (inosinic acid and glutamic acid), which are the foundation of umami and richness. Oleic acid + Sweet Amino acid produces the sublime and complex deliciousness of Wagyu Beef. Oishi!!!
AROMA香
When Wagyu is heated to 80°C, or 176° F, it releases a specific Wagyu Aroma. This aroma is a characteristic of purebred Japanese Wagyu. The world-renowned deliciousness of Wagyu goes far beyond its high price tag – it's based on empirical evidence.
HOW IT IS DELIVERED TO THE TABLE

Well-raised cattle in our various farms in Japan. We airfreight the meat from Japan to Singapore. We deliver the premium Wagyu beef to you. CHOOSE YOUR MEAT
Explore different and delicious Wagyu Cuts! Apart from the high-end cuts such as Sirloin, Ribeye, etc, there are also other cuts which are perfect for a variety of culinary dishes. Check out our Wagyu products using different cuts. Check it out here!
しゃぶしゃぶ/すき焼き
Shabu Shabu / Sukiyaki